Regret is not all that bad; it's often an opportunity
What is one thing you wish you could have done differently?
We all have one of those things in our lives. One emotion often attached to this kind of memory is regret. There are two types of regret: 1) making a mistake and 2) not trying something we value (e.g., going to college). In essence, regret comes down to something we wish we did differently or tried to do.
Many spend energy trying to avoid unpleasant emotions. I recently finished a book called No Regrets that will be released globally in October. In it, I write that it's impossible to live without regret, but it is possible to learn how to move past regret. Regret is a powerful, transformational emotion that can
help us learn from our mistakes.
Regret is a natural consequence of being human. It's not good or bad; it just is. Most of us do not wake up each morning intending to make mistakes that drive unpleasant emotional pain. We try our best to enjoy life the best we can. Regardless of how much we try, we cannot control others' actions, only our
own.
I recently watched Dwayne "The Rock" Johnson share a story on TikTok. He talked about not making the NFL, after his short career in the CFL. He was cut after his first game. He told how painful this experience was as he had focused for years on becoming a professional football player.
I could relate to his story. I failed grade two.
The Rock is where he is today because he decided to have no regrets and become a better version of himself. He learned how to move past unpleasant emotions to believe he was good enough to become something worthy, which helped him live a good life.
All the best – Dr. Bill Howatt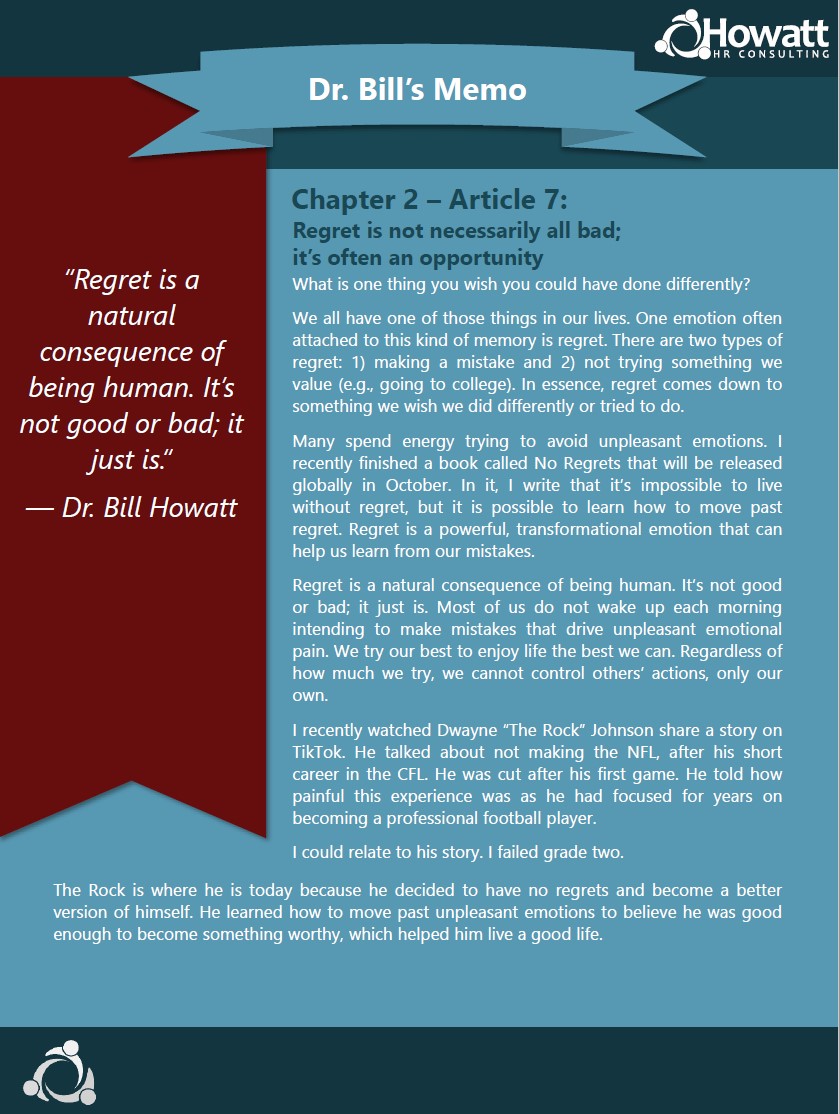 Dr. Bill Memo - Article 7