Sowing the Seeds of Mental Health
Supporting the Mental Health of Canadian Farmers
These free sessions start on January 4th and will run for ten weeks. The sessions will be delivered by authors, columnists, and mental health experts, Dr. Bill Howatt and Dr. Dayna Lee-Baggley. The sessions will provide information and tips for maintaining your mental health and are 30 minutes long, followed by a 15-minute interactive Q&A session.
We are grateful for the support of our project sponsors and partners:
Farm Safety Nova Scotia
The "Network" at the Canadian Centre for Health and Safety in Agriculture
Canadian Agricultural Safety Association
AgSafe Alberta
AgSafe BC
Ontario Federation of Agriculture
The COVID-19 global pandemic has impacted many groups, including Canada's farmers and their families, and has taken a toll on our health and wellbeing. Many of us feel fatigued as we have been living in this pandemic world for well over a year. While there is light at the end of the tunnel, it does not feel like it is arriving fast enough or that we will recover at the same exponential rate at which we were impacted. Therefore, in partnership with our sponsors, we are offering this 10-session webinar series free to Canadian farmers to help farmers sow the seeds of mental health.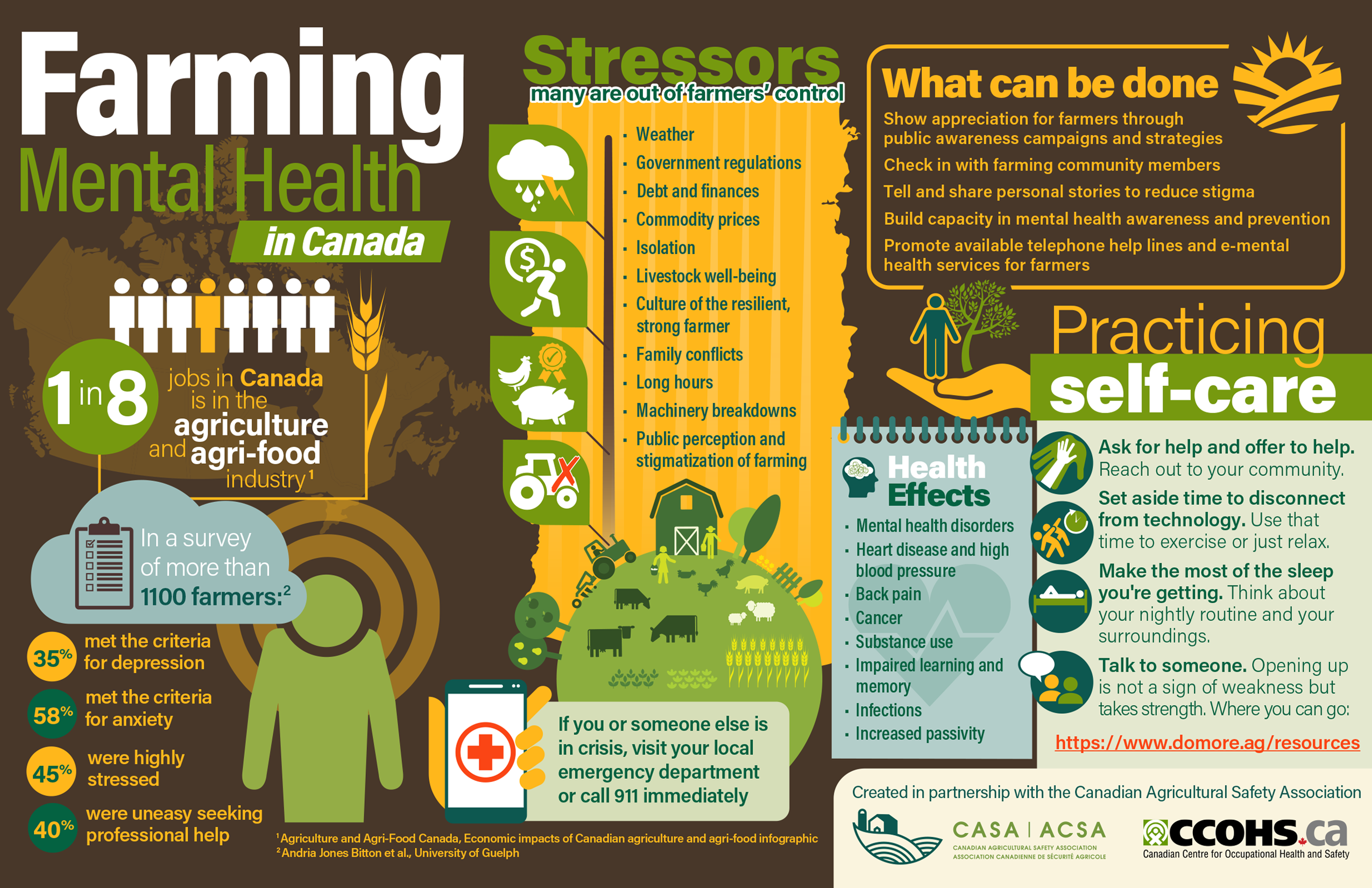 January 4, 2022: Relationship Survival Guide – Explore relationship realities and the foundations for relationship stability and longevity. You will also hear five tips for building a loving relationship.
January 11, 2022: Moving Away from Loneliness Starts from Within – Explore how our own thoughts can impact how we experience loneliness. You will learn three steps that you can take to move away from feelings of loneliness.
January 18, 2022: Transitioning through COVID – Hear about how humans respond to stress and the impact of emotional exhaustion. Understand how our values can help us through a crisis. Learn why fostering hope and creativity are important and learn five tips for creating behaviour change.
January 25, 2022: Why Mental Health Matters – Learn about mental health in Canada and the difference between mental health and mental illness. Hear about mental fitness and the link between mental fitness, physical health and social connections. Review the mental health continuum and discuss improving personal resilience and coping.
February 1, 2022: Feeling Less Overwhelmed and Tired – Learn about the formula for feeling overwhelmed and what you can do to manage overwhelmed feelings. Learn how to recognize what is in your control and apply practice tips to reduce feelings of being overwhelmed and tired.
February 8, 2022: Busting Self Stigma – Learn how self-stigma can get in the way of seeking help when we need it. Understand specific steps that you can take to reduce self-stigma and promote help-seeking.
February 15, 2022: Seasonal Work and Overall Wellness – Learn how seasonal work can impact overall wellness. Learn to recognize signs and symptoms of stress and how it can affect our physical and mental wellbeing. Review five tips for improving your overall wellness.
February 22, 2022: Tips for Taming Negative Emotions – Learn how emotions can shape how we show up for ourselves and others. Learn the importance of recognizing negative emotions and five steps you can take to manage negative emotions.
March 1, 2022: The Benefits of Monitoring Daily Charges and Drains – Learn how to monitor your charges and drains and how external stressors and factors can impact your own personal charge. Understand four tips that can support you in generating a positive charge.
March 8, 2022: Insulating for Irritability – Learn what mental fitness is and what factors can contribute to irritability and signs of becoming irritable. Learn four tips for preventing and moving through irritability.